MIA MILLER Principal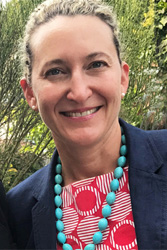 Having grown up in cities around the world, Mia brings a global influence to her work at EM Interiors. Living in the Middle East, Europe and South America, she developed a deep understanding of different cultural styles.
Mia graduated from Syracuse University and started her career at fashion label Emanuel Ungaro in New York City. While working with renowned designer Thom Filicia, she fell in love with interior design. She developed her talents for sourcing contemporary furniture and lighting at OLC in Philadelphia before moving to Ellen Magen Interior Design. There, Mia's keen eye sourced unique materials and accessories for clients' homes.
Mia lives in a converted Pennsylvania bank barn with her husband and 2 children. While away from the office, she and her family love to hoist up their sails and explore the Chesapeake Bay.