CATHERINE LOWNES Principal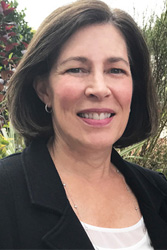 The daughter of a talented seamstress, Cate's love of textiles began early as she learned to make her own clothes and home accessories. Her sister, an antiques dealer, influenced her love of furniture and design, which was furthered by her studies at Moore College of Art & Design.
Upon graduation, Cate went to work for some of Philadelphia's leading architectural and design firms, where she focused on planning and executing large corporate and healthcare projects. She later worked for the DuPont Company as a carpet fibers specialist.
Her desire to create more personal spaces led her to the residential firm of Ellen Magen, where she specialized in space planning, architectural detailing and project management.
When she is not in the office, Cate can be found tending her vegetable garden, or wielding her wicked forehand on the tennis court.